ELISA Activity
ELISA data from three patients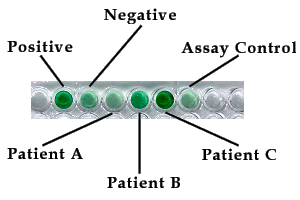 | | | | | | |
| --- | --- | --- | --- | --- | --- |
| Positive Control | Negative Control | Patient A | Patient B | Patient C | Assay Control |
| 1.689 | 0.153 | O.055 | 0.412 | 1.999 | 0.123 |
Above is ELISA data from three patients. Numbers are expressed as optical density at 450 nm. The cutoff value indicating a positive result is 0.500. Optical densities of 0.300 to 0.499 are indeterminate and need to be retested. Values below 0.300 are considered to be negative. In most cases, a patient will be retested if the serum gives a positive result. If the ELISA retests are positive, the patient will then be retested by western blotting analysis.
---
The Biology Project
The University of Arizona
Thursday, January 21, 1998
Contact the Development Team

http://www.biology.arizona.edu
All contents copyright © 1998. All rights reserved.